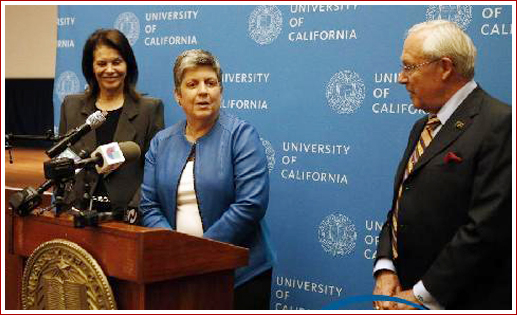 According to British media reports, former U.S. Homeland Security Secretary Janet • Napolitano July 18th officially became president of the University of California, during which opposition protests, a total of 6 people were taken away by police.
  [protests]
  The university board of California voted 18 days in San Francisco to approve Napolitano as its new president. Before that, police forced several demonstrators to take away.
  Some students were angry at Napolitano's immigration policy when he was Secretary of homeland security. They chanted slogans when they were handcuffed by school police handcuffs, briefly interrupting the appointment hearings.
  During the public evaluation phase of the meeting, dozens of people suddenly shouted, "shame!"! Disgraceful! Disgraceful!" Which two people rushed to the front desk manager attempts, stopped by the police. Others gathered outside the house to oppose Napolitano's previously approved immigration, and criticized her lack of experience in education.
  Rosa Hernandez, aged 21, is a student at University of California at Berkeley. "Napolitano is totally ineligible for president of the University of California," she said. She has a background in law and immigration law enforcement. I am a student without citizenship, who has been a terror to my family. I was very upset about her being the headmaster,"
  A spokesman for the University of California, Elizabeth Fernandez, said 6 people were arrested for unlawful assembly and disorderly conduct during the meeting.
  "I want to say to those students," she said at a press conference afterwards, "we welcome you to California University, whether you have citizenship or not," Napolitano, 55, told a news conference afterwards. We devote ourselves to education and promote education."
Napolitano also said her salary would be 10% lower than the previous Chancellor Mark Randolph, because "I've been in public service for over 20 years, and I'm doing it for the passion of my career."." The basic salary of Napolitano, the new president, is about $570 thousand.
  [high hopes]
  Democrat Napolitano, who served as governor of Arizona for two years, has now become the first female president of California University in 145 years.
  California university is one of the top public university systems in the United States. It has a huge system with 10 campuses. For the past 20 years, California university funding has been unstable, leading to higher tuition fees and a shortage of classrooms. Under financial difficulties, university staff were forced to take unpaid leave, and recruitment was stagnant.
  Manager Sheri Lansing Napolitano evaluation before the vote said: "we are extremely excited, because she will be a new perspective on the California University system. She devoted all her life to public service...... I think she has an education genius in her genes."
  [suffer criticism]
  Napolitano, who used to be blamed by Republicans, has always been a lightning rod for the Obama administration. Recently, she has been criticized for being too weak in border control and immigration.
  Meanwhile, Latino leaders have also sharply criticized her immigration sweeping policy. Affected by the policy, a large number of illegal immigrants were detained or repatriated.
  Napolitano admits she is not a typical candidate, but says she will meet teachers, students, politicians and others through their understanding of the university system in California. She won high praise for supporting public education during her term as governor of arizona.