USA Oriental University is a non-educational private training institution that integrates the inheritance and development of outstanding Chinese traditional culture, research and teaching. It hopes that through our professional courses, it will promote more of the world's friends to understand, learn and love traditional Chinese culture. At the same time, it will scientifically use the wisdom of traditional Chinese culture, and aspire to preach and teach entrepreneurs from all over the world, improve entrepreneurship, enhance the wisdom of entrepreneurs, and help entrepreneurs succeed!
  Our slogan: Let the world fall in love with China!
  Our aim: Promote Chinese traditional culture and attract world attention!
  Our motto: As Heaven keeps vigor through movement, a gentleman should unremittingly practice self-improvement, The terrain is Kun, the gentleman carries things with great virtue!
  Our virtues: Love, loyalty, courtesy, wisdom, integrity. Gentle, kind, respectful, simple, modest. Loyalty, filial piety, courage, humility, honesty.
  Our vision: Determined to spread the excellent Chinese traditional culture to every corner of the world!
  1. The UOU does not involve subject education, further studies, and diplomas. If it is needed for future development, it will be handled in accordance with relevant laws and regulations of the US education department.
  2. Without the employment and authorization of the UOU, unauthorized use of UOU positions or the recruitment of trainees by name and the holding of various training courses, etc. In this regard, the UOU shall pursue the legal responsibility of its individuals and units.
  3. UOU will hold legal responsibility for those who maliciously slander, slander, or make false statements.
  4. All employees (part-time) must take the interests of UOU as the most important factor, maintain the UOU brand image, be gentle, be a good example, be honest and trustworthy, and do not damage UOU interests and reputation.
  5. UOU will strictly abide by the relevant policies and regulations of China and the United States, and the society is requested to supervise it!
                                               USA Oriental University official statement
                                                      August 18, 2017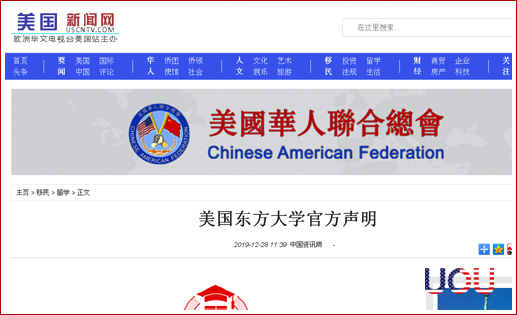 Special thanks to "USA News" -- News Title: USA Oriental University official statement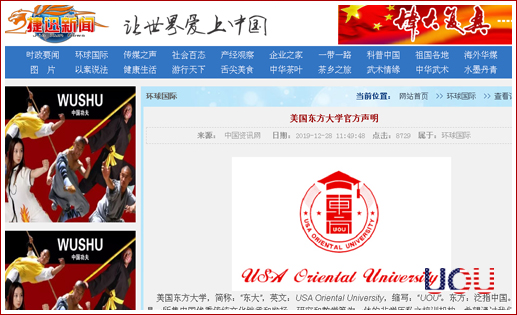 Special thanks to "U.S. Newsletter" -- News Title: USA Oriental University official statement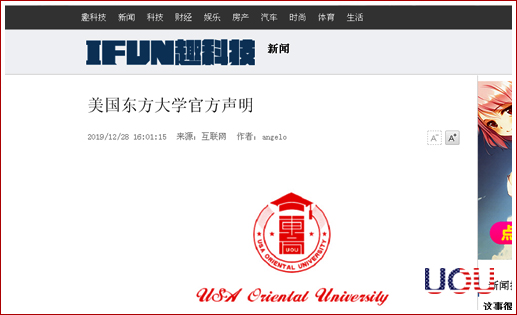 Special thanks to "Fun Technology" -- News Title: USA Oriental University official statement